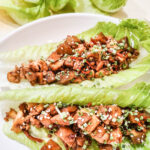 Print Recipe
Vegan Chik'n & Tofu Wraps
Ingredients
1

tbsp

sesame Oil

16

oz

tofu cut in small cubes

2

cloves

minced garlic

1

large

onion

1

carrot (julienne)

1/2

package

Morningstar Chik'n Strips (chopped & rinsed)*

2

springs

scallions (or sprinkle chives)

1

head

romaine lettuce (cleaned)

sesame seeds (optional)
Sauce
¼

cup

vegetarian Hoisin Sauce*

2

tbsp

tamari or light soy sauce*

1/2

tsp

maple syrup

1

tbsp

rice wine vinegar

1

tsps

ginger paste

1

tsp

crushed red peppers (optional)
Instructions
Tofu
Drain the tofu but we don't need to press it. Cut the tofu in small squares and put in a large bowl.

Drizzle vegetable oil and mix.

Place in the air fryer at 400° F for 15 minutes, shaking halfway.
Sauce
Mix all the sauce ingredients together and set aside.
Putting it all together
While the tofu is frying in the air fryer, saute onions and garlic in medium heat in a large pan until aromatic.

Add the julienne carrots and saute for a good minute.

Add the chopped Chik'n Strips and saute until brown.

Add the air fried tofu and mix.

Assemble in a leaf of romaine lettuce and sprinkle with scallions and sesame seeds.
If there's one thing you'll learn today, it's that…
not all soy sauces are created equal.
I'm Asian and I just learned this a few years ago. Back then I used La Choy or Kikoman brands on recipes that required soy sauce. The dishes ended up too salty so I looked at other options. Tamari is a lighter version of a soy sauce. It has a soft soy taste that I prefer over light soy sauces (which can still be strong). If you use regular soy sauce, make sure to use half the amount and dilute the other half with water.
As far as the air fryer… I love using it because it saves so much time. While I'm prepping, chopping, and measuring out the ingredients, the tofu is cooking in the background. Once it's done, just toss it in the dish and mix it all up. Adulting in the kitchen is all about shortcuts.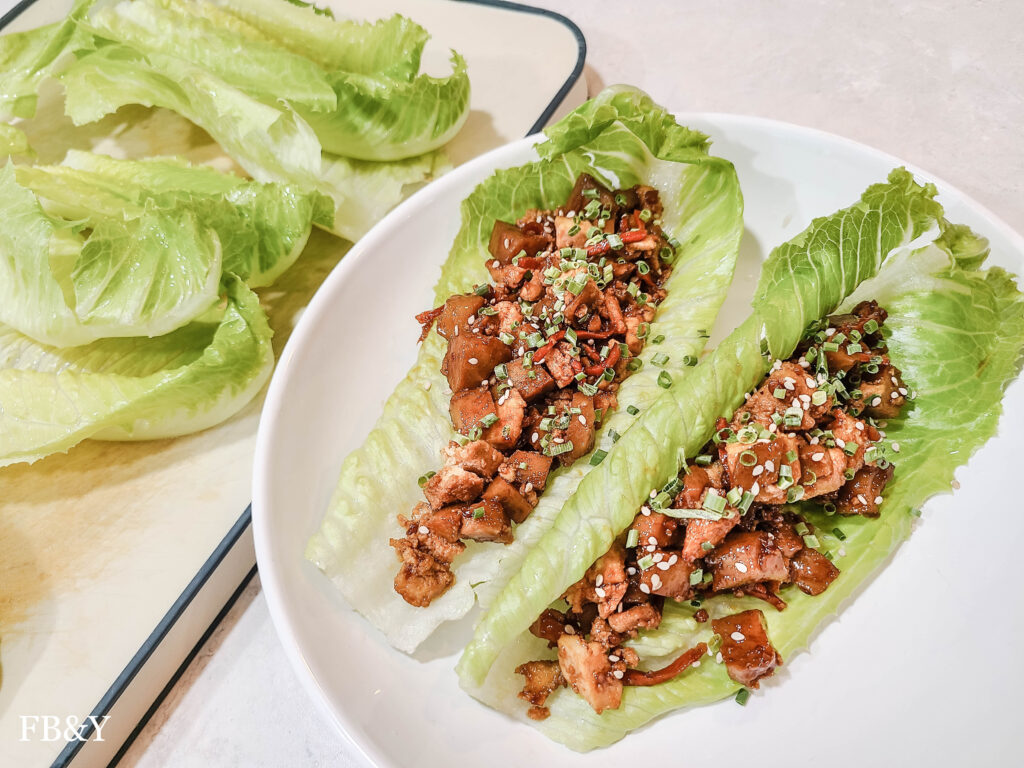 My parents came over straight away once they saw this posted in my Facebook stories. Mind you, at the time the rate of covid-19 cases were increasing and restaurants were shut down. That was back in August 2020. Yes, it's only now I post this recipe but it was so delicious and satisfying.