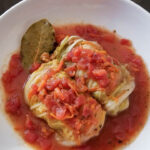 Print Recipe
Golubtsi : Russian Cabbage
Ingredients
2

heads

medium cabbages

1

large

chopped onion

1

tbsp

garlic

2

large

bay leaves

1

bag

MorningStar Farms Veggie Grillers Crumbles

(see link in notes)

8

oz

can tomato sauce

1

cup

cooked jasmine rice

6

tbsp

Just Egg

(see link in notes)

5

oz

shredded carrots

(see link in notes)

28

oz

can Italian Diced Tomatoes

(see link in notes)

1

tbsp

granulated sugar

2

tbsp

plant based sour cream

(see link in notes)

salt & pepper to taste
Instructions
Boiling The Cabbage
Turn the cabbage upside down to remove the core with a knife. This leaves you with a cabbage head with a hole down the center.

Drop the whole cabbage head hole down in a pot of water. Cook in medium heat for 5 minutes. Turn to cook all sides for another 5 minutes.

Take out of pot and set aside to cool.

Repeat for the second cabbage head.
Sauce & Stuffing
Sautee onions in medium heat till soft.

Add garlic and bay leaves. Mix until garlic is golden.

Add the carrots, mix, and cook till soft.

Remove half of the mixture and set it aside.

In the pan add the MorningStar Farms Veggie Grillers Crumbles and mix. Cook till the Veggie Crumbles are soft.

Add the tomato sauce and mix.

Turn off from heat. Add the cooked jasmine rice and mix.

Add salt pepper to taste.

Empty the pan into a new container.

Add Just Eggs. Mix and set aside.

Put the other separated mix of carrots back in the pan on medium heat.

Add the Italian diced tomatoes and mix.

Add the sugar and mix (add more as needed).

Bring to a boil and set aside.
Stuffing the Cabbage
Peel the layers of cabbage carefully. If it has a thick stalk, trim down the middle of the cabbage to remove it. Overlap the gap and follow directions below.

Place a leaf of cabbage on a plate, scoop two to three tbsp of stuffing on the leaf, cover and roll the leaf up. With your index finger, stuff the sides in. (Another option is to roll like eggrolls. Fold in sides, then roll until closed. See notes below.)

Once the cabbage is stuffed, pour a layer of the sauce in the bottom of a large pot (or a Dutch oven).

Place a layer of stuffed cabbage, then a layer of sauce. Layer till the top layer is the sauce.

Bring back to the range covered in low heat for 30 minutes.

Turn off heat but leave it covered for another 15 minutes.
Notes
Links to Ingredients:
Plant Based Sour Cream
When you have a Ukrainian husband, you cook eastern European food as authentic as you can.
Recipe seems intimidating but it's actually not too bad. I usually opt for shortcuts when cooking, for instance the carrots already came shredded, so that's one less step to prep.
Who doesn't love a cabbage roll?